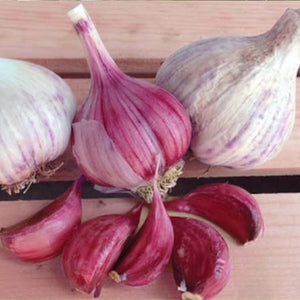 Spanish Roja, an heirloom garlic, (a garden plant whose lineage can be traced for a 100 years or more) came to the Portland, Oregon area over a hundred years ago and was originally known as Greek or Greek Blue garlic.
Being a Rocambole garlic, its flavor is very strong, hot and spicy and sticks around for a long time. It seems to have an especially rich taste. It has thin bulb wrappers that have a lot of purple and brown in them.

Spanish Roja usually has anywhere from 8 or 9 easy to peel cloves that are of good size, with no smaller inner cloves. The outer bulb wrappers are thin and flake off easily so it is not a very good storer, but no Rocambole is. Great taste is their claim to fame, not long storage.
Garlic used for seed is generally 2" or greater, while garlic that is less than 2" is sold as table garlic. You can plant or eat garlic of any size.