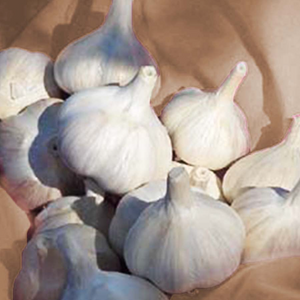 Music Garlic has a single layer of cloves, each around 2.5" to 3". Wrapped within a light satiny white skin with a touch of pink, each garlic contains 4-7 cloves.
After harvest, Music Garlic can store up to 9 months to a year. A durable crop, Music Garlic does not usually break. It has a sweet lasting flavor that can be described as a pungent "medium hot". Durable, flavorful, and easy to peel, this strain can do well at gourmet and farmstands, and can sell for baking, roasting, and other cooking needs.
Consistent and dependable, Music Garlic is a friendly garlic to growers and the public alike. Originating in Italy, it was discovered and brought to the Americas in the 1980s. Since then, this strain is enjoying a prosperous run across North America and has become one of the most popular newer varieties here.